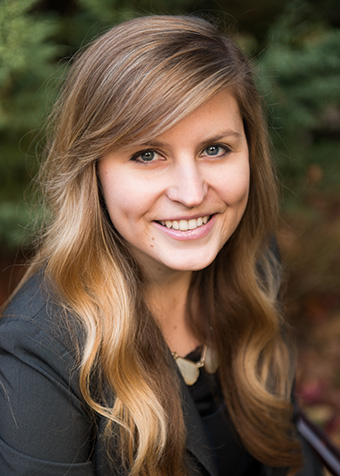 Fun Fact:
While attending high school in The Netherlands, Marina completed a Silver Award Expedition in the Swiss Alps, which involved being deserted in the snowy mountains with only a compass to lead the way to her shelter for the night, a cow barn.
Marina primarily concentrates her practice on general litigation matters.  She has experience in business litigation, commercial litigation, employment benefits, as well as alternate dispute resolution. Marina also participates as a mentee in the King County Bar Association Family Law Mentor Program and occasionally assists low-income King County residents with contested family law matters on a pro bono basis. Having lived in numerous cities throughout the years, from Nashville, Tennessee to Bucharest, Romania, Marina is glad to have finally settled down in the Pacific Northwest. She enjoys hiking, skiing, snowshoeing, and looks forward to taking advantage of all the Pacific Northwest has to offer.  And one of these days, she hopes to get used to the rain.
OTHER AREAS OF PRACTICE
Marina has also delved into:
Commercial real estate transactional matters
Preparing loan documents, purchase and sale agreements
Commercial leases.
PROFESSIONAL MEMBERSHIPS
Washington State Bar Association
King County Bar Association
East King County Bar Association, Trustee
Tennessee Bar Association
EDUCATION
Marina graduated magna cum laude from the University of California, Los Angeles in 2010 with a degree in Communications Studies and a minor in Central and East European Studies.  She earned her law degree from Vanderbilt University Law School in 2013.  While in law school, Marina served as Notes Editor for the Vanderbilt Journal of Entertainment and Technology Law, as well as treasurer for the International Law Society.  She also participated in Moot Court, Mock Trial, and Women Law Students Association.